General Driver Motor adds the THETA brand to its catalogue. In an effort to further expand the range of products and services GDM continues to look for synergies in the market. The use of precision systems such as spindles and high speed spindles is essential in today's industry.
Efficiency and performance are key to the success of these devices and to achieve this, proper maintenance and care is necessary. Preventive maintenance is very important to achieve optimum performance of these high speed motors. This is where General Driver Motor emerges as the undisputed leader in the field of spindle and spindle maintenance and repair.

Specialising in High-Speed Spindles.
General Driver Motor has demonstrated an unwavering commitment to excellence in the maintenance and repair of high speed industrial machinery. Its specialist approach to spindles and chucks has established its reputation as the preferred choice of numerous companies throughout Europe.
State-of-the-art Spindle.
One of the reasons behind General Driver Motor's success lies in its specially designed spindle. They are equipped with advanced technology and managed by a highly trained team, these facilities guarantee quality service, fast answer times and effective solutions. Our spindle repair room is specially designed to carry out the maintenance of these engines.
The Theta Brand: Innovation in Spindles.
Within the world of spindles, the Theta brand stands out for its innovation and quality. It has an extensive catalogue that GDM will bring to Europe. General Driver Motor is the proud representative of this brand in Europe, an alliance that highlights the trust that Theta places in GDM because of our experience and technical knowledge. On the Taiwanese brand's website it is shown GDM as a distributor in Europe.
Theta: Pioneers in Spindle and Spindle manufacture.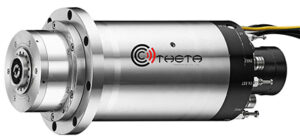 Theta has made an unforgattable mark on the industry by specialising in the manufacture of spindles motors. Their commitment to precision and durability has enabled companies around the world to achieve unrivalled levels of efficiency in their operations.
General Driver Motor: Trusted Partners for Industry.
General Driver Motor's dedication to excellence in the field of spindles is evident in every project they undertake. Their focus is not only on repair, but also on ongoing advice and support for their customers. This personal attention is what makes them a trusted partner to the industry.

General Driver Motor's specialisation in the repair of high-speed spindles, as well as its representation of the prestigious Theta brand in Europe, positions the company as the undisputed leader in the field of industrial maintenance and repair. Its commitment to quality and innovation translates into optimised performance for companies in all industries. General Driver Motor is the industry's ideal partner for precision and efficiency.
If you are interested in more information, please contact us using THIS FORM.