The Siemens Simodrive 611 model range is widespread in the world of CNC machinery. They are modular equipment in which the power stage and control are independently interchangeable, which gives them great versatility and adaptability.
We are going to see the notices that this device launches to indicate the need for corrective maintenance on the device.
Alerts from Simodrive 611 devices.
The most frequent alarms that we can find in these drivers are:
300039 "Error during identification of the power unit".
300500 "Startup error".
300501 "Maximum intensity monitoring".
300607 "Full intensity regulator".
All these breakdowns could have been avoided if preventive maintenance had been carried out on time. In this way we can avoid that our production line has unexpected and unwanted stops. We insist many times on this point, preventive maintenance is a saving process, not a cost. And it only brings benefits to the company.
It may happen that, due to not performing the aforementioned preventive maintenance, the components of the equipment or its plates end up badly damaged, making their repair extremely difficult. If this situation occurs, the only solution is to replace the equipment, which is an extra cost compared to a repair or, in the best of cases, a tune-up.


The maintenance process.
The first step in the preventive maintenance of Simodrive 611 models that is carried out at GDM is a deep cleaning of the electronic boards. The reason is that this process will avoid problems derived from corrosion by chemical elements in the environment that are deposited on them (fats, oils, metallic powders, humidity, etc …). This cleaning is very important since we will avoid possible short circuits or insulation losses that could occur due to these elements.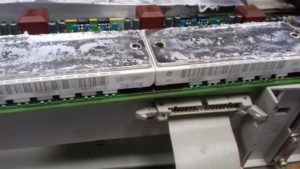 Once the equipment is clean, the components are changed. We will focus on those that due to their chemical composition have a limited durability in terms of the number of working hours and the temperature they withstand. Opto-electronic components are also changed, which by their nature have wear and tear due to working hours.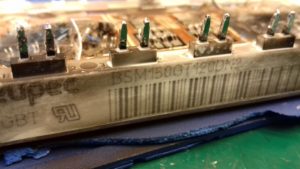 Another "focus" of driver failures is their ventilation and cooling system. The key is that an overheating of the equipment can cause damage to the components that in many cases are irreversible. For all these reasons, it is important that in preventive maintenance a change of cooling components is carried out, a cleaning of heatsinks and a change of thermal dissipation paste is carried out.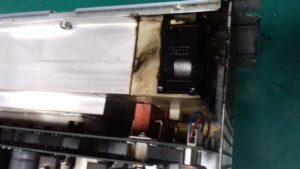 If you have this type of equipment and you need a more in-depth assessment, do not hesitate to write to us from THIS FORM.