We are going to tell you how the customer service department works at GDM.
At GDM we summarize customer service in one idea: keep the customer informed at all times.
Upon receipt of your equipment for repair, our priority is to keep you informed about the study processes, technical test and assessment of the real state of the device.
From the beginning, we started with our customer service for the repair of servo motors and electronics equipment. In the first step we inform the client of the reception, by email. In this we detail the characteristics of the servomotor or electronic equipment that we have received and the coding or internal repair order number that we assign to it for our traceability and internal management. The client is constantly informed of the receipt and the term in which it is tested. Subsequently, the valuation and cost offer will be sent to you.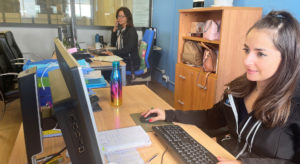 Customer Support.
The people who are in customer service, María and Pilar, keep them informed of any questions or queries about the repair. And of course, always attending to the entire process in real time.
The customer service department works as a team with the rest of the departments, we maintain a constant feedback of information about the repairs. This allows us to inform our clients of any unforeseen event that arises in the repair of their servomotor or electronic equipment.
Teamwork is essential at GDM so that communication flows and technical questions and questions are resolved in any unexpected circumstance. In this way and thanks to the entire GDM team, it is possible to give the fastest and best solution.
We understand that our clients look to us for a solution to diverse and varied situations. On many occasions you criticize production line stops. This leads to fast, efficient and highly technical responses. For this reason we adapt to all types of emergencies in the repairs of servomotors and electronic equipment.
On many occasions the urgency is so pressing that the transport is waiting while the servomotor or electronic equipment is being repaired. It is our vocation of service, quality customer service, which motivates us every day to solve any fault that may arise for our customers.
From here we take the opportunity to thank our clients for always providing us with the information on why they request the repair. The information about the alarm or the detail that led to the request for repair makes our job much easier.
This is how we work and this is how we want to work, because at GDM we solve problems. If you want to try the GDM methodology, do not hesitate to call us, and you can start RIGHT NOW.