Servo motor repair is the differential value of GDM. This is our reason for being and what motivates us. All the teams that come to us have a new life again. The servomotor returns to the starting point with all its functions at 100%. We are going to explain how we face this process.
SERVOMOTOR REPAIR PROCESS
The steps we follow when receiving a servomotor for repair are:
Engine type identification and its characteristics.
Checking the power connector, the thermal probe and brake control, insulation test and stator winding.
Encoder test: tacho, hall effect, resolver, serial, incremental or absolute encoder.
It is important to measure the adjustment in mechanical and electrical degrees of the encoder for the commutation of the 2 stator-rotor magnetic fields before disassembling. Next, once repaired and mounted we have to re-adjust the encoder. For this we must apply the same measurements that we have obtained at the beginning. In this way, when reassembling and connecting with your driver, no machine operation problems will arise.
At GDM we have developed an application to verify and measure the number of pulses. In addition to the phase shift between signals A and B and also the symmetry. Another important point is to check the torque in Nm of the brake. And we do this in any case, whether it is ferodo or magnetic.
Once these tests have been carried out, the engine is disassembled. We review and verify the mechanical parts. Later the shaft and the bearings. Then we go on to check the bearing seat on the shaft and caps. And lastly, we check the gaps and their tightness.
ENGINE RECONSTRUCTION
Repairing the servomotor ends the rebuilding process. When we finish and have repaired all the damaged parts, the assembly is assembled. At this time, an isolation test is carried out again. We continue with the assembly and adjustment of the encoder to proceed to connect it with its driver.
After finishing the assembly, we verify the magnetic field of the rotor, we run in and we see the correct operation.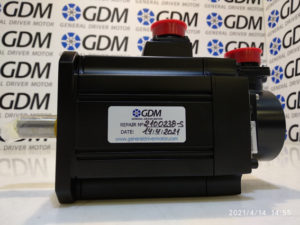 In our Control Check department we check the consumption, speed and torque on a test bench. In this way we guarantee that it is in perfect condition. Of course, always under the quality standards indicated by the manufacturer.
Once tested and observed that the repair of the servomotor is correct, we reach the final point. To finish, we paint the engine in the original color and prepare an anti-shock packaging for shipment to the customer.
If you have any questions or want to know more about our repair process, get in touch with us FROM HERE. We also want to leave you here one of our videos where we give you more information on the subject.